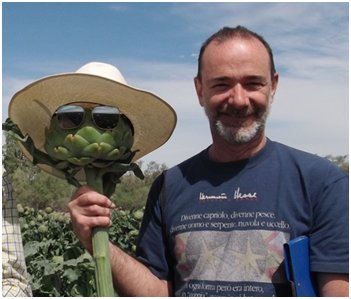 He worked at ICARDA (International Center for Agricultural Research in the Dry Areas) from 1986 to 1991. The activities included periods abroad and collaborations with foreign colleagues. He was in Maputo, Mozambique (March-July 1994) to lecture Agricultural Genetics. Since 1995 he collaborated with ICARDA in research aimed at durum wheat evaluation.
Graduated in Agricultural Sciences at the University of Perugia in 1984, he got his Ph.D. at Reading University (UK) in 1991.
From 2000 to 2002 he was responsible for the RU of Viterbo for the project "Perennial legumes to acid soils dewater" sponsored by CLIMA (Centre for Legumes in Mediterranean Agriculture) Perth Australia.
He is in the editorial board of "Diversity", "ScienceJet Journal", "Dataset Papers in Science, Genetics section", "Journal of Plant Breeding and Genetics" and "Journal of Scientific Research
Associate Professor at the University of Tuscia since 2005.
Research activities have been focused mainly on the analysis of genetic variation in natural populations of several species of agricultural interest (Triticum, Artichoke, Capparis spinosa, Poplar, forage legumes, Pistache, Orchid), and the relationship between genetic variation and edaphic factors. These include biodiversity conservation, adaptation and tools for variety identification.
The analyses are conducted using traditional and advanced methodologies, based on different kinds of molecular markers. Particular attention is paid to the resistance to abiotic stress, especially drought stress, looking also at the distribution and identification of SNP markers for genes related to drought and salt tolerance.
From 2001 to 2005 he was responsible of the Research Unit "Evaluation of genetic variability present in the emmer wheat germplasm" of the Special Project "Genetic resources useful for the improvement of the species of interest and for a sustainable agriculture" financed by the Italian Ministry of Agriculture and Forestry. From July 2007 to June 2010 he was the coordinator of the project "European genetic resources of Cynara spp. - CYNARES" funded by the European Union under the European Community Program AGRI GEN RES. He is the responsible of the Viterbo Research Unit for the Horizon 2020 project ECOBREED (Increasing the efficiency and competitiveness of organic crop breeding).
Chair of the ISHS Artichoke working group from October 2015