Accompanying Person
Wednesday, 21st May 2014
VISIT TO MURCIA
16:00 hrs. Pick up at the Hotel NH Amistad.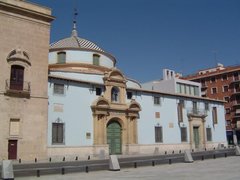 16:30 hrs. Arrival at Salzillo's Museum.
The new architectural influence has allowed the Church of Jesus as sacred theater to put into use the stands with their balconies open to allow visitors a glimpse from on high the great apotheosis that awaits at the end of the tour to see the famous stagings passion flowers, an effect very typical of the baroque. As the same architect, the museum was conceived as "a journey through time and space, a labyrinth of emotions, memories and knowledge".
17:45 hrs. Arrival at Cathedral and San Juan de Dios
Belluga's Square, Sto Domingo's Square and Romea Theatre.
The most important religious building in Murcia is its Cathedral, construction of which began at the end of the 14th Century; this building contains gothic elements, such as La Puerta de los Apóstoles, and La Capilla de los Vélez.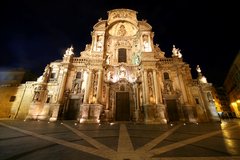 Cathedral
It was from the 16th century, and particularly the 18th century, onwards that Murcia achieved an urban splendour that lead to its expansion beyond the city walls. It was during that period that the numerous churches - mainly baroque in style - that mark the entire urban landscape were built. These churches include La Merced, San Miguel, Santa Ana, Las Claras, Santo Domingo, Santa Eulalia and San Juan de Dios, which combine their artistic and architectural designs with an important pictorial and sculptural heritage, containing numerous important works, including most notably those produced by Francisco Salzillo.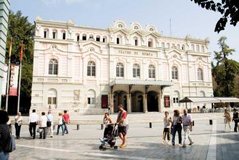 The Romea Theatre
It is an Italian-style theater in which its 1,200 seats are distributed Stalls, silverplate, Boxes and harrows. Inside, are noteworthy ceiling paintings of the stalls, made by Antonio de la Torre and Inocencio Medina, representing Julian Romea being crowned by the muses. The curtain of Boca, conducted by Emilio Sala, was a gift of the marriage of actors formed by María Guerrero and Fernando Diaz de Mendoza and represents "The Pacheca corral". Bordering the Escofia, the coffer and Scenario allegorical representations are three stations that routinely turned theatrical performances: fall, winter and spring. Among the theater highlights dependencies Hall of Mirrors that is used for various cultural events of interest.
18:45 hrs. Return to hotels.
19:00 hrs. Cocktail Reception.
The cocktail reception in the cloister of the Faculty of Law, will be held at Campus de La Merced, Murcia. Campus de La Merced is in the city center of Murcia. Most Hotels are also in the center, so the easiest way to reach the campus is on foot.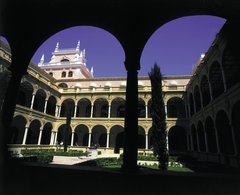 The exact location of the cocktail is:
Facultad de Derecho.
Calle Santo Cristo
Campus de la Merced - 30001 Murcia
Universidad de Murcia
Thursday, 22st May 2014
VISIT TO LORCA - AGUILAS
09:45 hrs. Pick up at the Hotels.
11:00 hrs. Arrival at Lorca Visitor Center , Workshop of Time, where you can visit an interesting interactive exhibition about the history of the city.
Pedestrian walk to historic center.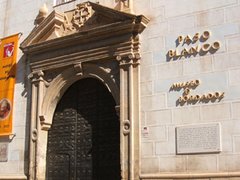 11:15 hrs. Visit to Paso Blanco.
Holy Week in Lorca is very intense. Combines religious intention and manifestation profane, wisdom and experience who has the last two centuries of the Bible representing moments and moments of the Passion, binding civilizations that are now coming story with others.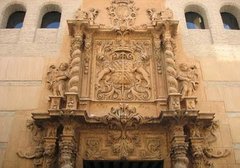 12:00 hrs. Continuation of the visit: Guevara House, Church of San Mateo, Craft Centre, Casino, Theatre. Guevara's house or Column as it is also known, is the most significant building of all civil Baroque city. Built by Don Juan de Guevara is between 1691 and 1705.
12:15 hrs. Coffe break at Corredera street.
12:45 hrs. Continuation of the visit to Spain Square: City Hall, Corregidor's House and Collegiate (exterior only), Cava Street, San Antonio portico and arrival bus parking.
13:30 hrs. Departure to Aguilas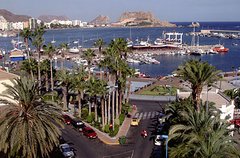 14:30 hrs. Lunch at Aguilas Port.
As a modern city, Aguilas born of Enlightenment thinking of Charles III and his ministers Aranda and Floridablanca seeking an outlet port for the produce in the valley of Lorca and Águilas, the natural outlet of the whole region. The new city, with straight, became a booming commercial area peaked in the XIX century with silver, lead and iron, and the construction of the railway line and the pier Stove by British companies. Currently, Aguilas retains its maritime tradition and its deep commitment tourist destination.
16:00 hrs. Walk along the port and city center: center square, town hall and San José church.
Aguilas' port is protected by a breakwater that houses inside the commercial dock. From the start of this spring spring party the Bank, dedicated to the fishing port and docking facilities for boats little bearing. From the north end of the Shore spring, followed by a spring of coastline, followed by another pier breakwater perpendicular to one end of which is a slipway, the latter two make up the sport dock docks.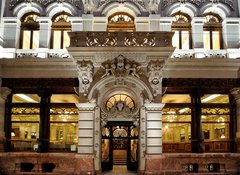 17:00 hrs. Return to Murcia
20:30 hrs. Gala Dinner
Real Casino de Murcia
Traperia 18
Tourist Guided Tour Murcia Casual Dress, Sun Protector, Cap, Comfortable shoes.
Tourist Guided Tour: Lorca-Aguilas Casual Dress, Sun Protector, Cap, Comfortable shoes.