Hotel information
Accommodation have been reserved for EAEVE GA 2014 participants in some hotels located in city center.
Early booking is necessary and should be made through our on line registration form and not directly with the hotel booking system; special rates, agreed with the University of Murcia, are guaranteed only by April 15th 2014. After that the hotel is free to sell his rooms at its usual commercial rates. Please note that hotels are always free to sell (even if only a few rooms and with very strict terms and conditions) especially through internet hotel search engines, at the most convenient commercial price of the day as a special offer which may be even cheaper than our rates!.
Hotel booking is possible only through our on line procedures (check dedicated link) and must be done simultaneously with the registration.
Payments must be in Euros (€) either by bank transfer or by credit card (only VISA and MasterCard accepted). No cheque payments are accepted.
HOTEL
SINGLE ROOM
DOUBLE ROOM
RO
BB
RO
BB
HOTEL NH AMISTAD 4****

fully booked!

60.50 €
69.50 €
60.50 €
78.50 €
HOTEL TRYP RINCÓN DE PEPE 4****
60.50 €
69.50 €
60.50 €
78.50 €
HOTEL HESPERIA 3***
53.50 €
61.50 €
53.50 €
69.50 €
Rates per room and night. 10% VAT included. RO = Room Only, BB = Bed & Breakfast.
Hotel Cancellation Policy and refunds
Cancellation must be always confirmed in writing to congresos@v­erticesur.es
Don't forget to include all your bank's information. Reservation changes will only be possible before the hotel voucher is mailed. After that, reserves the right to charge additional 25 € for reservation changes. All cancellations must be notified by April 30th; after this date, no refunds are possible.
For payment and on line booking please check the dedicated link
Recommended Hotels
NH Amistad Murcia ****
Condestable, 1. 30009 Murcia (Spain)
The NH Amistad Murcia hotel enjoys an ideal location in the most important business, commercial and leisure area of Murcia City. It is only 100 meters from the Gran Vía main avenue. The historic Old Town is just a five minute walk away, and here you'll find a great variety of pubs, restaurants and tascas that serve delectable homemade tapas. The locals are welcoming, and this is a great area for sampling famous regional Murcia dishes.
Bright and modern throughout with 144 spacious rooms and extensive conference facilities, the NH Amistad Murcia hotel has its own car park and a lobby where you can relax with friends or surf the wireless internet free of charge. The attractive Condestable restaurant serves delicious meals all made with fresh ingredients straight from the market. Inside, the NH Amistad Murcia is fully air conditioned and soundproofed and just what you need for a relaxing break or focused business meeting. The 9 multi-purpose rooms hold up to 400 people and benefit from natural daylight. You'll find the staff attentive, and access to business and communications equipment, as well as high quality catering for events, is easy to arrange.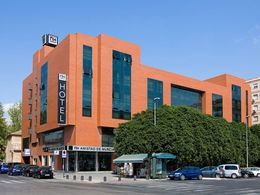 Rincón de Pepe ****
Apóstoles, 34, 30001 Murcia (Spain)
This comfortable hotel is situated in the centre of the city of Murcia, strategically located next to the Cathedral. Intergrated on the first floor of the Hotel, you can find the Gran Casino Murcia, the games room with a surface area of 1.200 m2 and a capacity for 400 people.
Excellent facilities to enjoy moments of leisure. Its functional and modern decoration finds itself in a different hotel. This establishment of superb quality offers all the comforts and services of a great hotel. This hotel is ideal for stays of business or pleasure.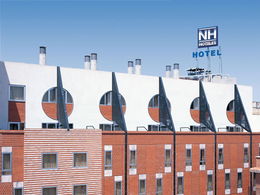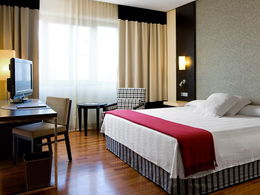 Hesperia Murcia ***
Madre de Dios, 4. 30004 Murcia (Spain)
The Hesperia Murcia hotel offers business guests and holiday travelers an excellent location right in the historic center of Murcia. The hotel was entirely remodeled in 2003, offering guests clean and modern rooms with full amenities and a private bathroom. Just a one-minute walking from Gran Via street, the city's main avenue, the Hesperia Murcia hotel is surrounded by the finest boutiques and shops in the area. Make sure you visit the Murcia cathedral, built in 1465, just five minutes away.
Hesperia Murcia is conveniently located for business trips, close to City Hall and other administrative offices. The hotel offers 120 bright rooms, with free wireless Internet access in all rooms and public areas. Sit back to enjoy a snack, or just hang out and read in the hotel's warm and welcoming common areas.